Events This Weekend December 16th – 18th
It's one week till Christmas and this weekend is packed full with amazing events from London, NYC, Lagos and Abuja, top of the list is Makioba's Christmas shopping event and The Future Awards. So take your pick from our hot selection and have a blast this weekend;
---
Makioba is set to wrap things up this year with a super plus size pop up sales event. If you missed out on the mega offers and options at Pop Up Plus then this is a great opportunity for you to get fashionable pieces, drinks are on the house as you shop and mingle with other beautiful curvy women come December 18th.

Date: 18. DEC. 16.
Time: 1pm – 7pm
Venue: Lemmy House
9 Tobun Street, Duplex 2
Off Iwaya Road,
Onike – Yaba
Ewuro The Musical
'Ewuro' is the Yoruba representation of the popular 'bitter leaf' (vernonia amygdalina). The play leads a movement that exists to address discrimination and violence against women. The play is centered around the abuse women in Nigeria face on a daily basis from rape, to battery, molestation and widow's funeral rites.
Date: Friday – Sunday, December 16-18 2016
Time: 12PM, 3PM, 6PM Daily. Command Performance on Sunday December 18th by 5pm
Venue: National Theatre, Iganmu, Lagos.
Tickets are available online at http://www.ariiyatickets.com../]www.ariiyatickets.com. For more information, call +2348055556525 or +2349086787099.
---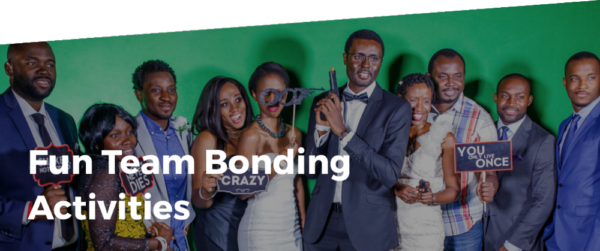 The Unofficial Christmas Party – "Owambe"
The theme for this year is "Owambe" – A grand party thrown by Nigerians (mostly Yorubas) which usually features mouth-watering local dishes, fast-beat and loud Nigerian music accompanied by the latest "gbedu" dance moves, spraying money on one another and having a great time.
Date: Friday, December 16 2016
To register your team, click HERE
---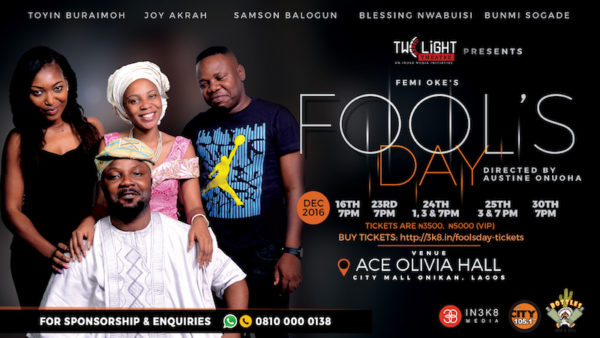 Fool's Day – a Femi Oke stage play.
Fool's Day highlights the decline in the value society has placed on the emotional and psychological relationship between parent and child in contemporary Nigeria. It is a dramatic survey of the Nigerian family unit – the epicentre of the Nigerian society.
Date: 16, 23, 24, 25 & 30 December, 2016
Time: 7pm (Friday), 3PM & 7PM (Sunday), 1PM, 3PM & 7PM (Saturday)
Venue: Twilight Theatre @ Ace Olivia Hall, City Mall, Onikan, Lagos
Call Oyin on 0810 000 0138  or via email at oyin@in3k8.com. Get tickets on http://3k8.in/foolsday-tickets
---
Eleko Motor Race
The Eleko motor race (EMR), is a high energy off-road motorsports event in Lagos providing safe fun in the scenic beach environment of Eleko.
Date: Friday, December 16 2016
Venue: Eleko Beach, Lagos
To participate, teams (Comprising of a driver and Navigator and a 4×4 or AWD vehicle) can register by Visiting www.elekomotorace.com.
---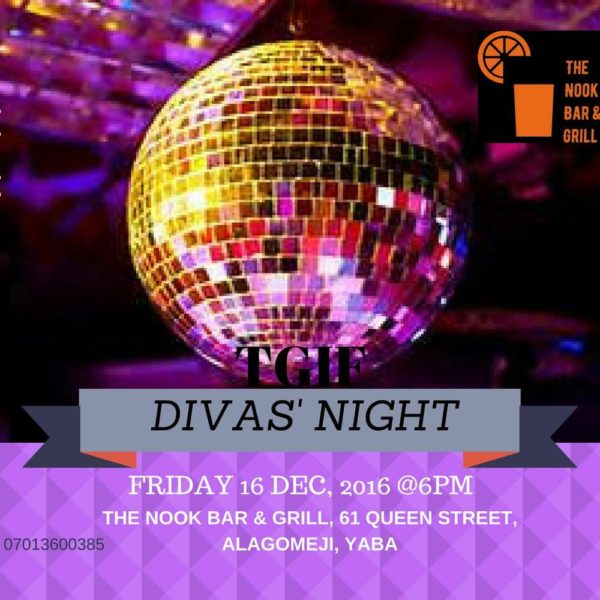 TGIF Diva's Night
Date: Friday, December 16 2016
Time: 6PM
Venue: The Nook Bar & Grill, 61 Queen Street, Alagomeji, Yaba.
---
Negro in the sacred idiom
A Whitespace Creative Agency presents this solo exhibition by Kadara Enyeasi. The body of work reflects on the idea of divinity, where Enyeasi explores mortality and immortality using orthodox and traditional African religion as a reference.
Date: Friday, December 16 2016
Time: 7PM
Venue: 58 Raymond Njoku Street Ikoyi.
---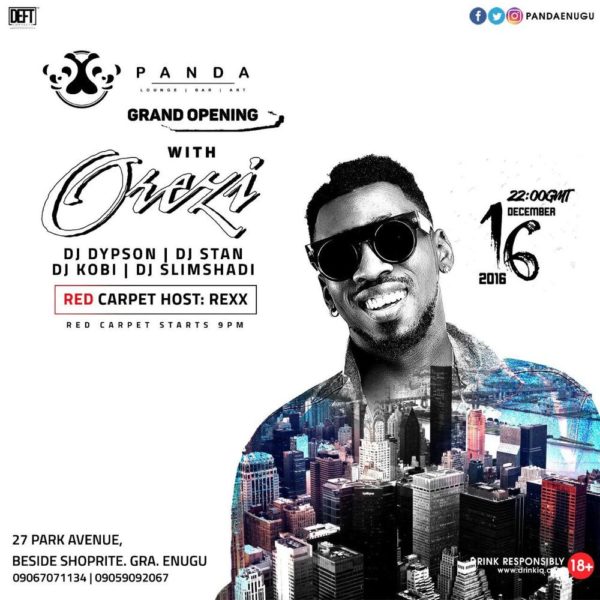 PANDA Grand Opening with Orezi
Date: Friday, December 16 2016
Time: 10PM. Red Carpet starts 9PM
Venue: 27, Park Avenue, GRA, Enugu.
---
Fashion Illustration Training
Date: Saturday, December 17 2016
Time: 9AM – 3PM
Venue: BLD by Play, 15 Admiralty Way, Lekki Phase 1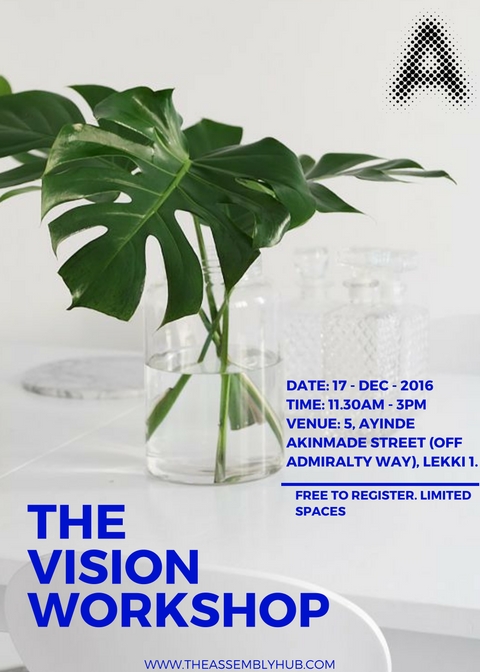 The Vision Workshop
Bursting with ideas but don't know how to express your thoughts? Want to learn how to articulate your brand's vision? This workshop is an opportunity for you to start 2017 off with a clear vision and focus.
Date: Saturday, December 17 2016
Time: 10.30AM – 3PM
Venue: 5, Ayinde Akinmade Street (Off Admiralty Way, Lekki 1
Registration to attend is free but limited,
http://bit.ly/TAVisionWork
---
"Delta Bush Refineries and Other Stories" Opening Reception
The photography exhibition features the work of Akintunde Akinleye, the first Nigerian Photographer to have been awarded a prize in the prestigious World Press Photo, Netherlands in 2007 with an iconic photograph of a man rinsing soot from his face at the scene of an oil pipeline explosion in Lagos, December 2006.
Date: Saturday, December 17 2016
Time: 4PM
Venue: 24, Ikoyi Crescent, Ikoyi, Lagos
For more information: www.omenkagallery.com or call  08184553331
---
Oma Couture Noire Aime Spring 2017 Collection Preview Party
Fast rising Nigerian designer, Oma Couture formally invites you to the preview party of her spring 2017 collection tagged 'Noire Aime'. The show will feature her latest pieces exclusively sewn to a high level of excellence while enjoying a fun night of shopping, appetizers, and of course special discounts.
Date: Saturday, December, 17 2016
Time: 6PM – 11PM
Venue: Ayo Van Elmar Fashion Cafe, New Wing, Oriental Hotel, Lagos.
For more information, please call 08161721857
---
The Beatz Awards
Date: Saturday, December 17 2016
Time: 6PM
Venue: Muson Centre, Lagos Island.
---
Return of the Kings Concert
Date: Saturday, December 17 2016
Venue: Ugborikoko Secondary School, Airport Road, Benin City
---
Beautiful, Brilliant & Industrious
Date: Sunday, December 18 2016
Time: 7.35AM – 9.30AM
Venue: 2nd floor, Al-Waliyy Plaza, 1st Avenue Junction, FESTAC Town, Lagos.
---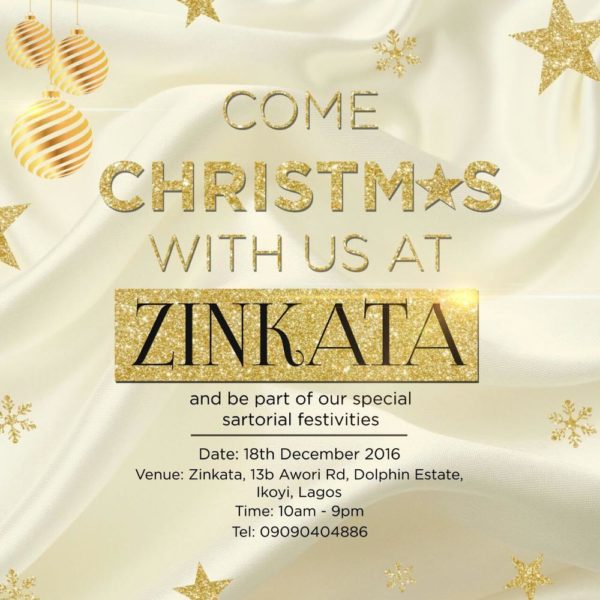 Zinkata Christmas Festivities
This the perfect time to spread love and joy all around. Come by Zinkata and partake of our special brand of sartorial Christmas festivities. See you!
Date: Sunday, December 18 2016
Time: 10AM – 9PM
Venue: Zinkata, 13b Awori Road, Dolphin Estate, Ikoyi, Lagos.
---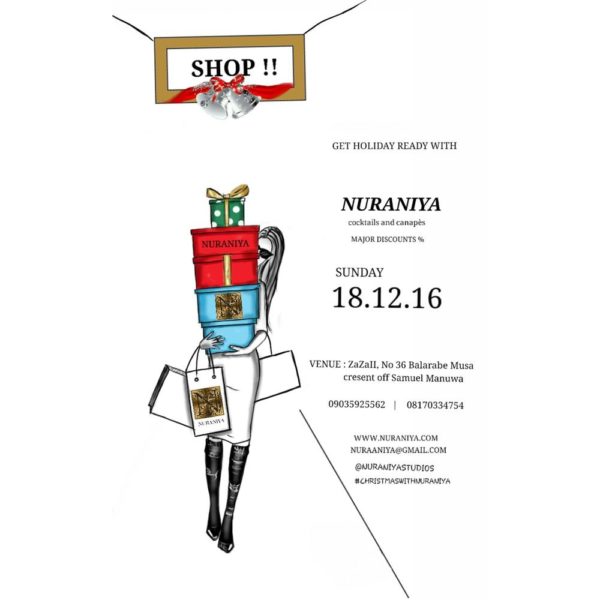 Nuraniya Studio Christmas Pop-up Sales Party
Nuraniya Studios is hosting our first ever "Sip, Shop & Party" Christmas pop-up sales party and would love to have you come through as we use this opportunity to appreciate all our customers (old and new), media and friends for an awesome and supportive 2016. 
Date: Sunday, December 18 2016
Time: 12PM
Venue: Zazaii (36 Balarabe Musa Crescent, Victoria Island, Lagos
---
The Lagos Yard Sale
Currently in its 4th edition, the quarterly event promotes community living and healthy lifestyle among friends and family in an atmosphere of fun and good food. The Lagos Yard Sale provides an avenue for small, creative businesses to promote their products and generate sales.
Date: Sunday December 18, 2016.
Time: 12PM – 7PM
Venue: The Fountain School, Alhaji Animashaun Street, Surulere, Lagos
For inquiries; please call +234 703 569 3174, +234 701 274 2129 or Email info@shopinlagos.com
---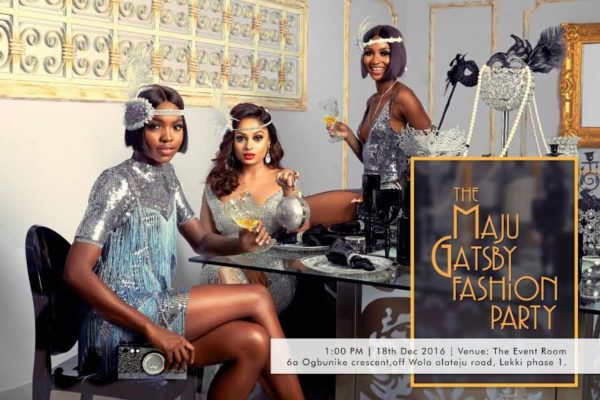 MAJU Gatsby Fashion Party
Date: Sunday, December 18 2016
Time: 1PM
Venue: The Event Room, 6A, Ogbunike Crescent, Off Wola Olateju road, Lekki Phase 1.
---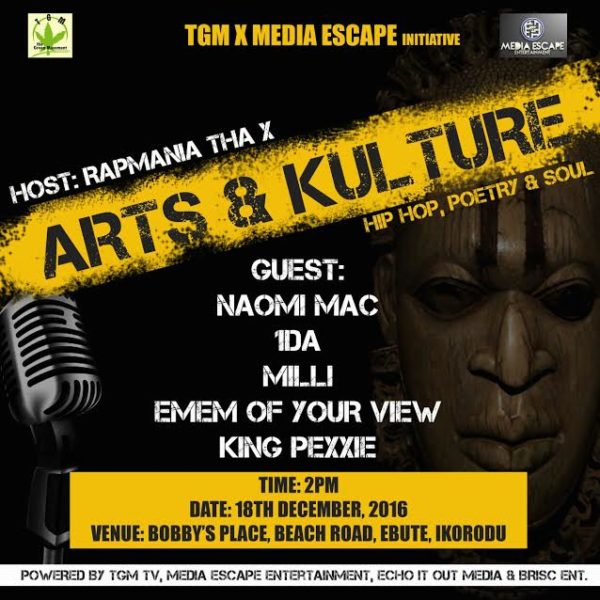 Arts n Kulture
This is the first of different series brought to you by two of Ikorodu's finest brands – Media Escape Entertainment and The Green Movement – with the aim of putting Ikorodu on the entertainment scene with arts and culture which it's rich in. Ikorodu is no doubt a growing art village that has played host to different talents and urban movements. 
This year's edition of Arts and Kulture will take place at
Date: Sunday, December 18, 2016
Time: 2PM
Venue: Bobby's Place, Beach road, Ebute, Ikorodu, Lagos.
---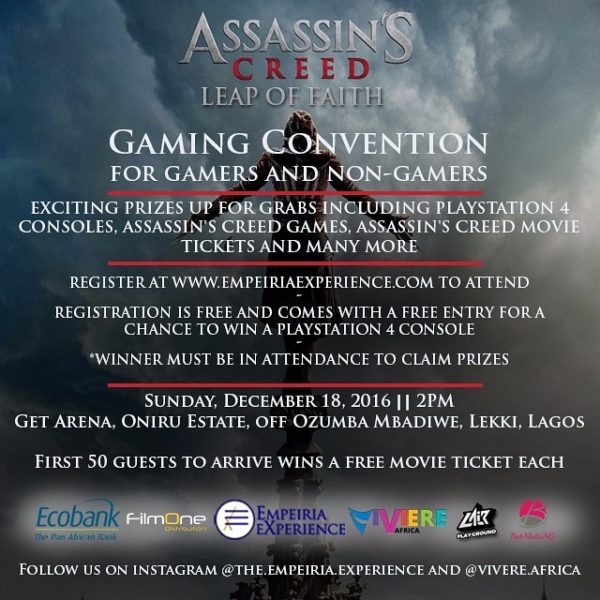 Assassin's Creed: Leap of Faith Gaming Convention
Empeiria eXperience and Vivere Africa are organising a gaming convention to promote the soon to be released film, Assassin's Creed. You are invited to come enjoy the Assassin's Creed themed atmosphere with a massive variety of games, winnings and great music. 
Date: 18th December 2016
Time: 2PM – 7PM
Venue: Get Arena, Oniru Estate, Off Ozumba Mbadiwe Road, Victoria Island, Lagos-State
Call 0909 478 4850 or 0812 465 1069 for more info.
Gaming Stations incl. Assassin's Creed, FIFA, Mortal Kombat and more Registration is free and enters you for a chance to win a PlayStation 4 Console! With many more prizes up for grabs at the convention. Register Now! on www.empeiriaexperience.com
---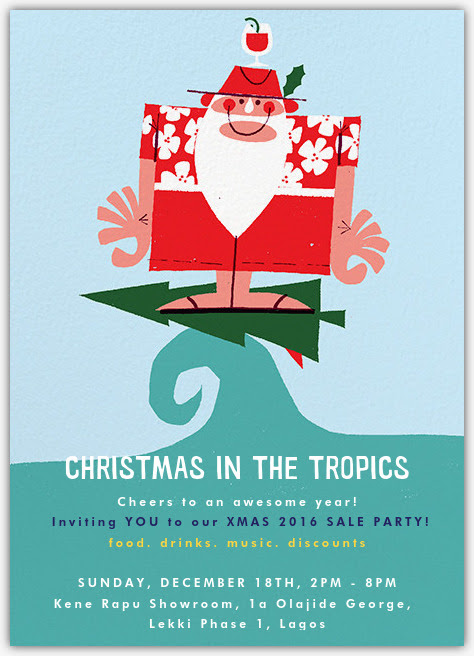 Kene Rapu Xmas 2016 Sale Party 
Date: Sunday, December 18 2016
Time: 2PM – 8PM
Venue: Olajide George Street, Lekki Phase 1, Lagos
---
Dr. Smile & The Kings
Date: Sunday, December 18 2016
Time: 2PM
Venue: The Marque, Olusegun Obasanjo Presidential Library, Abeokuta, Ogun State.
---
Crystal Premiere
The movie tells the story of a gifted young lady named Crystal (played by Dorothy Ohiani). She is full of life and has everything going well for her then, she suddenly finds herself involved in a dark conspiracy. Her whole life takes an unexpected twist leaving her with only two options, to survive or die.
Date: Sunday, December 18 2016
Time: 4PM
Venue: The Fountain of Life Church, Ilupeju
---
The Future Awards Africa 2016
The highly anticipated African youth awards is here again! How are you shaping your society? Join the conversation using the hashtag#ShapingTheFuture #TFAA2016.
Date: Sunday, December 18 2016
Time: 5PM
Venue:  Federal Palace Hotel, Victoria Island, Lagos.
For more information, visit awards.thefutureafrica.com. Follow @TFAAfrica to keep up with the latest news on TFAA.
The official hashtag for 2016 is #TFAA2016
Latest posts by Emmanuel Sadi
(see all)
I am a prolific writer, stylist and a fashion/media enthusiast who has published over 680 magazine articles on fashion, beauty, entertainment, lifestyle, celebrity interviews and cover stories for print and online platforms across Africa.